Welcome Message
We are glad to invite you to the
World Congress on Bacteriology
and
Infectious Diseases
. which is held from July 02-04 at Paris, France. The rationale behind the conference is to get eminent scientists, scholars, industrialists, students under a single roof to exchange ideas and to enlight about novel advancements, anticipate problems in the field of
Bacteriology
. Qualitative staff, laboratory staff, and industry representatives can avail this opportunity and enrich with a lot of knowledge. Attend the conference with gusto and imbibe the ideas. Showcase your splendid talents in the form of posters, paper presentations and much more.
Bacteriology
is the wider term which has a great scope in R&D as well as in industries. Vaccines, Antibiotics, Drugs, Fermented products, beverages, metabolites, organic acids production relies on the
Bacteriology
. Our gratitude towards people who are concerned about
Bacteriology
, Applied Microbiology, Vaccines production, brewing industries. Beef up your knowledge and let your research, ideas get acknowledged.
sessions
Epigenetic events like DNA methylation and histone modification affects the gene expression. The pathogenic bacteria disrupt this epigenetic event. Study of epigenetic alterations helps to know about incubation period, incidence, prevalence, attack rate, sporadic, infestation, transmission probability ratio. Based on the study the disease can be categorized into the epidemic, endemic.
It comprises biochemical reactions in bacteria growth, its emphasis on bacterial cell structure, the interaction of biological macromolecules like carbohydrates, lipids, nucleic acids and about the catabolite repression, proximal control elements, attenuation.
The main aim of clinical bacteriology is to diagnose the disease by using specimens. These specimens may be urine, feces, body fluids, tissue etc. Manual testing is done by using this specimen to find out the infectious disease.
.
It is a combination of many topics like food preservation, food spoilage, molecular food, fermented food technology, brewing microbiology. Bacteria metabolism shows the impact on food odor, color, taste, pH changes, slime layer formation.
prebiotics are food ingredients that enhance the growth of the beneficial microorganisms in the gut.
It deals with many disciplines such as Genetics, Molecular Biology, Genetic Engineering. Synthetic biology laid down the path for making of biosensors, synthetic DNA, synthetic transcription factors, biocomputers, industrial enzymes, mass spectrometry. It concerns about design and construction of components like genetic circuits, metabolic pathways etc. Metabolic profiling, Large-scale integration, quantitative and integrative proteomics is designed based on the systems biology
The release of biological agents intentionally which are contagious like anthrax, botulinum toxin, bubonic plaque.
Bacteria is used as a starter culture in batch, fed-batch, c.s.t.r and other immbolized bioreactors.
vaccines resemble the organism which causes disease and it imbibes the active acquired immunity. It is generally the inactivated form of the organism. BioThrax, Daptaceal, Infranix, Pediarix were the new vaccines.The leading companies in drug production are Thermo Fisher scientific, Biomerieux, Dickinson and company, Bio-Rad. The current research was going on DNA and synthetic vaccines, combination and conjugate vaccine, edible vaccines.
Vaccine Adjuvants are components which potentiate the immune system and accelerate the immune responses to an antigen. It can also be termed as an immunologic adjuvant. These components act to induce, prolong, and enhance antigen-specific immune responses when used in combination with specific vaccine antigens.
In 2014 the vaccine market was 32 billion dollars and it is estimated to increase to 59 dollars by 2020.
About the conference
We cordially invite you to attend the
World Congress
on
Bacteriology
and
Infectious Diseases
. Come and explore the field of life science. We welcome all scientists, scholars, students, Industrialists to attend and get benefited. The main topics to be discussed are Advances in bacterial genetics, Infectious disease, bacterial molecular biology, epidemics, medical
bacteriology
, industrial microbiology, food industries, and immunology.
Infectious diseases
are caused by bacteria like
S.pneumonia, V.cholera, B.burgdorferi
, to treat this
infectious disease
many therapeutic agents like erythromycin, streptomycin, puromycin, penicillin and cephalosporins are being produced. Recent research depicts that
bacteriology
is fetching in industries and research.This conference is an amalgamation of industrialists, academia where they can gear up knowledge in the field of
bacteriology
.
Market Analysis
A BCC research report said that the market for food microbiology and technology industries is $8 billion in 2012. This total is expected to grow from $8.5 billion in 2013 to $11.4 billion in 2018, with a compound annual growth rate (CAGR) of 6.1% for the five-year period, 2013 to 2018.
The market size of global
Bacteriology
and Microbiology was estimated to be USD 3.38 billion in 2016. in a recent research study, the market size in 2017 is US$ 153.55 BN and it was estimated to reach US$ 238.69 BN by 2025.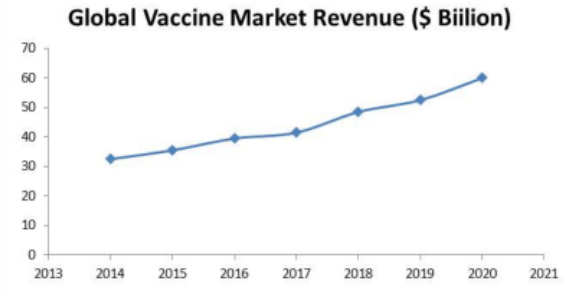 America has the largest share of 42% in the global microbiology market at $1485.02 million in 2013 and is expected to reach $1932.8 million by 2018, at a CAGR of 5.6% from 2013 to 2018.
Next, to America, Europe occupies the 2nd largest market position. Germany commanded the largest share 20% at an estimated $223.7 million in 2013 and is expected to reach $272.5 million by the year 2018, at a CAGR of 4.2% from 2013 to 2018.Europe market size is estimated to grow by 25% in drugs production against infectious disease from 2014-2022. France, Germany, Italy together share 80% of Europe
vaccines
market
Asian Microbiology market is developing rapidly and will continue to grow in future.
China commanded the largest share 53% at an estimated $177.1 million in 2013 and is expected to reach $334.5 million by the year 2018, at a CAGR of 14.2% from 2013 to 2018.
A recent survey claimed that antibiotics market size is expected to reach USD 57 billion by 2024. Tetracycline, imidazoles, lincosamides and monoclonal antibodies share large market size.Both broad spectrum and narrow spectrum antibiotics were produced in large scale.Multiple drug-resistant bacterial treatment infection 2017-2025 survey reported that usd26,169 MN in 2016 is expected to increase to USD 060.77 MN by 2025.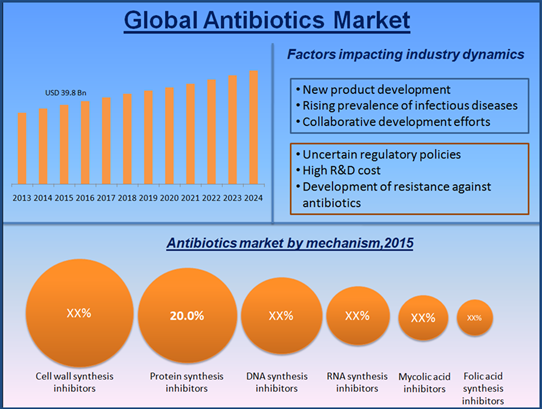 The antibiotics market analysis by drug class, Mechanism of action, and segment forecasts 2015-2024 anticipated to gain CAGR of 4.0%